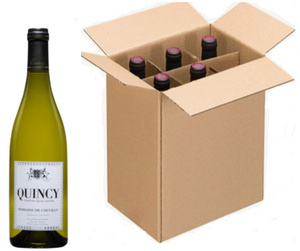 Quincy - Domaine de Chevilly Case 6 Bottles
🍇 100% Sauvignon, terroir made up of gravel.
👀 Pale gold color with silver reflections in their youth which, gaining in maturity, will evolve from a straw yellow to a golden yellow.
👃 It reveals all the expressions of Sauvignon, the aromatic grape variety par excellence: citrus fruits (grapefruit), white fruits (peach) blend delicately with floral notes (acacia). Shades of toast and dried fruit can be seen on the ripest Quincy.
💋 Freshness in the mouth. The expression of the terroir of sandy gravel brings tonicity to the wines while the clayey gravel brings substance and power. The finesse of the aromas combine with a supple structure to create an unparalleled harmony. The aromatic expression lingers in the mouth, often held together by a slight bitterness of grapefruit.
🗝️ To be served fresh! service between 10 and 12°C.
Terroir:
Gravel soils designate compact gravelly soils whose fine matrix retains water when it is clayey.
This wine comes from vines planted on an old terrace in the Cher, a terroir made up of gravel , whose light soils heat up quickly under the rays of the sun.
This sedimentary origin, more or less clayey, gives the wines a unique taste where the Sauvignon finds here, thanks to these exceptional terroirs, its most beautiful expressions.
History:
Highly appreciated by Duke Jean de Berry and Charles VII , the recognized excellence of Quincy wines very early on gave them the title of noble wine.