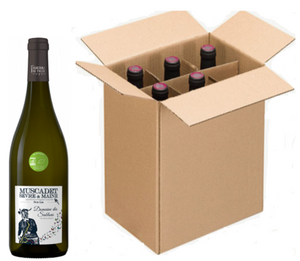 Organic Muscadet box (6 bottles)
🍇 100% Melon de Bourgogne: rare grape variety used mainly for this appellation.
👀 Pale yellow dress.
👃 Balanced nose, scent of undergrowth.
💋 Mineral and floral like "fresh herbs". It has a very slight effervescence that can be felt on the tip of the tongue (called "pearling") typical of Muscadet.
🗝️ To be served fresh! service between 9 and 11°C.
This wine goes particularly well with seafood. which goes perfectly with iodized or lemony dishes.
History: The 3 great passions of winemaker Christophe Maillard are included on the label: music, safeguarding the Nantaise breed of cow and wine.