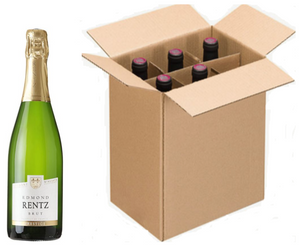 🍇 Pinot Blanc and Chardonnay.
👀 The bubbles are particularly fine and persistent .
👃 Pineapple.
💋 Crémant called "Blanc de blanc", because the grape varieties that made up this crémant are all white (Pinot Blanc and Chardonay). This wine has undergone a second fermentation typical of the traditional method. Average storage time in the cellar for 18 months before marketing.
On the palate it is racy, beautiful material, very great finesse and very pleasant liveliness.
🗝️ Service between 12 and 14°C.
The origin of the family estate dates back to 1785, several generations of owners
successive winegrowers thus gradually developing the surface area of ​​the vineyard.
For more than 20 years, Catherine and Patrick have been striving to develop practices that respect living organisms and are now committed to the High Value approach.
Environmental (HVE) which is, like Organic, a
certification preserving the environment. In the process of conversion to organic farming