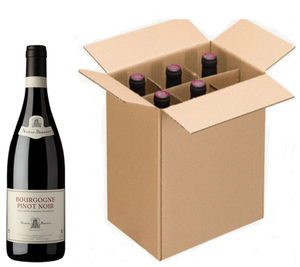 Case of Burgundy Pinot Noir (6 bottles) - Nuiton Beaunoy
🍇 100% Pinot Noir.
👀 Ruby red, brilliant and intense.
👃 Aromas of small red and black fruits, in particular raspberry and blackcurrant, accompanied by light spicy notes.
💋 Notes of raspberry predominate in this round and very pleasant wine. A supple structure and a very fresh finish.
🗝️ Service between 16 and 18°C.
Bourgogne Pinot Noir is a regional appellation for which wines are sourced from various parts of Burgundy.
Fruits of a long history, Burgundy and its wines are renowned throughout the world. Carried by the Pinot Noir grape variety which is the native grape variety of this region.
This wine has the characteristics of the pretty wines of Burgundy . Light, supple and fresh, it can accompany many dishes and will keep easily for 2 years.

The Nuiton Beaunoy cellar was created in 1957.
Today, this cellar located in Beaune in Burgundy is a group of 80 producers, spread over an area of ​​430 hectares.
The vines are over 20 years old. C. The soil is clay-limestone.

Vinification in temperature-controlled stainless steel vats, aging in French oak barrels.