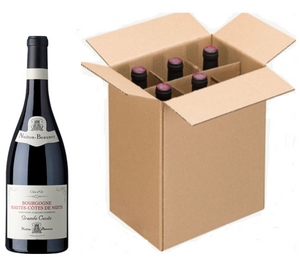 Case of Bourgogne Hautes Côtes de Nuits (6 bottles) - Nuiton Beaunoy
🍇 100% Pinot Noir .
👀 Purple dress, purple reflections.
👃 Liquorice and violet.
💋 Fleshy with pleasant tannins when ripe, enjoys an aromatic freshness expressing all the finesse and complexity of the magnificent Hautes-Côtes de Nuits terroir.
🗝️ Service between 14 and 16°C. Keep 5 years.
The Hautes-Côtes are located parallel to the Côte des Grands Crus de Bourgogne, behind it, and at a higher altitude (300 to 400 m instead of 250 to 350 m), hence the term "Hautes-Côtes ".
The vines are over 20 years old. The terroir is located at the foot of limestone cliffs with soils composed of Triassic sandstone and clay and Jurassic marl and limestone.
Vinification in temperature-controlled stainless steel vats with partial aging in oak barrels for 10 to 12 months.