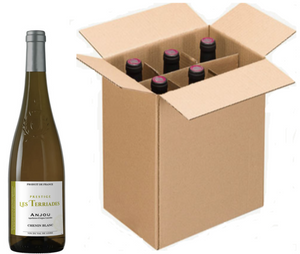 Case Anjou Blanc (6 bottles) - Prestige les Terriades
🍇 100% Chenin Blanc. Also called Pinot de la Loire is a flagship grape variety of Anjou in the Loire Valley. It would have been cultivated by the monks of the Abbey of Saint-Maur located between Angers and Saumur from the 6th century.
👀 Pale gold.
👃 Flower: acacias .
💋 Nuts: Apricot, pineapple. The clay soil gives a buttery side that envelops the palate.
🗝️ To be served fresh! service between 10-12°C.
The Terriades range was created by the winegrowers of the Caves de la Loire to highlight the best common plots, after more than 15 years of plot selection. The plots were chosen on the basis of their Grape-Terroir harmony.